Products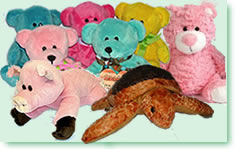 At La Cueva del Peluche we have a diversity of styles included in our catalogues which we have being developing and perfecting trough all the 10 years of experience, all of them are our own designs and materials, and some others we import in a exclusive way, allowing us to provide you with an original and exclusive product.
Now days we have 6 different types of products:
Baby: Specially designed to entertain your baby, very colorful and easy to manipulate.
Learning: Plush toys specially designed to improve the learning skills on children's.
Everyday: Every day gifts for an everyday person no matter how old they are.
Promotional Mascots: Specially designed to promote your brand or finished product, we manufacture this toys according to the specifications of the customer.
Special and Seasonal: We have special styles manufactured according to specific seasons, such as: Christmas, Valentine's Day, Children's day, Mother's Day and at the same time we are able to manufacture any other style form our catalogue meeting your special needs, to know the prices and conditions, just choose any style from our catalogue and send us your request to our virtual store and we will email you back with all the information.
Farm: Our newest line includes only animals that live on farms, very original and attractive plush toys.
To see al of our plus toy line and styles, please click in "catalogue"
If you are interested in distributing the La Cueva del Peluche plush toys, we are interested too, please click here.